BOOKS
RELEASED BY BLOOMSBURY 2/15: CLICK ON THE COVER IMAGE FOR MORE INFORMATION.
A Goth girl with an attitude problem, Elizabeth Davis must learn to control her anger before it destroys her. Emily Delgado appears to be a smart, sweet girl, with a normal life, but as depression clutches at her, she struggles to feel normal. Both girls are in Ms. Diaz's English class, where they connect to the words of Emily Dickinson. Both are hovering on the edge of an emotional precipice. One of them will attempt suicide. And with Dickinson's poetry as their guide, both girls must conquer their personal demons to ever be happy.
In an emotionally taut novel with a richly diverse cast of characters, readers will relish in the poetry of Emily Dickinson and be completely swept up in the turmoil of two girls grappling with demons beyond their control.
.
.
.
.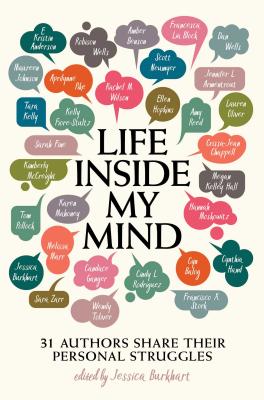 RELEASED 4/10/18 FROM SIMON PULSE. CLICK ON THE COVER IMAGE FOR MORE INFORMATION:
Have you ever felt like you just couldn't get out of bed? Not the occasional morning, but every day? Do you find yourself listening to a voice in your head that says "you're not good enough," "not good looking enough," "not thin enough," or "not smart enough"? Have you ever found yourself unable to do homework or pay attention in class unless everything is "just so" on your desk? Everyone has had days like that, but what if you have them every day?
You're not alone. Millions of people are going through similar things. However issues around mental health still tend to be treated as something shrouded in shame or discussed in whispers. It's easier to have a broken bone–something tangible that can be "fixed"–than to have a mental illness, and easier to have a discussion about sex than it is to have one about mental health.
Life Inside My Mind is an anthology of true-life events from writers of this generation, for this generation. These essays tackle everything from neurodiversity to addiction to OCD to PTSD and much more. The goals of this book range from providing home to those who are feeling alone, awareness to those who are witnessing a friend or family member struggle, and to open the floodgates to conversation.Participating writers include E.K. Anderson, J.L. Armentrout, Cyn Balog, Amber Benson, Francesca Lia Block, Jessica Burkhart, Crissa Chappell, Sarah Fine, Kelly Fiore, Candace Ganger, Meghan Kelley Hall, Cynthia Hand, Ellen Hopkins, Maureen Johnson, Tara Kelly, Karen Mahoney, Melissa Marr, Kim McCreight, Hannah Moskowitz, Scott Neumyer, Lauren Oliver, Aprilynne Pike, Tom Pollack, Amy Reed, Cindy L. Rodriguez, Francisco Stork, Wendy Tolliver, Rob Wells, Dan Wells, Rachel Wilson, and Sara Zarr.